February 3rd, 2009
OK, the day has come, my new CD You Have Loved is officially in stores nation wide, everywhere great Christian music is sold. I've already had several emails from people who have ran out and bought the CD from Lifeway or Family Christian stores. This is exciting, it's been a long time coming, and I just wanted to say thanks to all of the listeners, to Koch Records, and to the guys running Periday Records for making this happen.
We need to make a splash in the industry, so I need EVERYONE who considers themselves to be a fan of my music to try and grab a physical copy this week. It's really important to do well the first week in the market, don't ask me why. The good thing is that there is 4 bonus tracks on the CD for a total of 14 songs… verses only 12 songs on the iTunes version. It makes a great gift for your local worship leader as well… and while you're at it, let that person know that he or she can join my Worship Leader Network and get some free songs and chord charts, right here on my website.
Saving the best for last, I wanted to let you all know that I'm going to be partnering with a really great micro-financing organization called Opportunity International, specifically with their "Opt In Now" campaign. If you have no idea what I'm talking about, make sure you watch the video on my Jan 22 Blog. Micro-loans are basically tiny little loans given out to extremely poor people in some of the poorest parts of the world. The target person is making less than $2 a day. The average loan size is around $175. It's absolutely amazing what people can do with a loan for $175.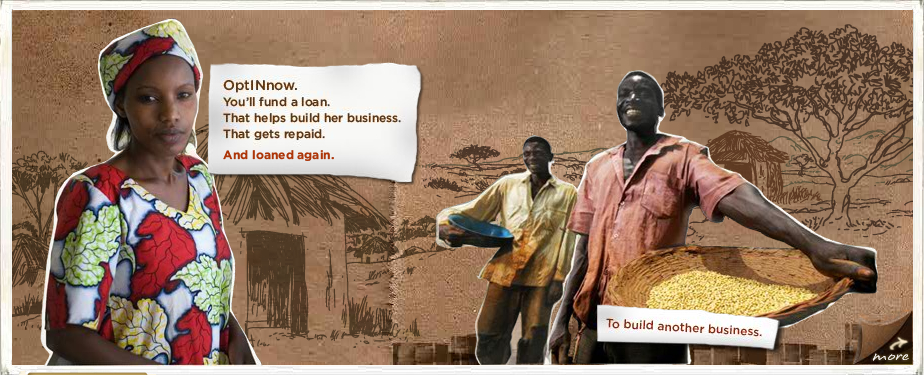 They start businesses and eventually work themselves right out of poverty. It's a fact. It's happening all over the world, and I want to get YOU involved in funding some of these loans to help someone in a foreign land get a chance to break out of the chains of poverty, and be self sufficient. Opt In Now is a way young people without much cash can play a part. You can make donations for as little as $25. Check it out, more to come soon.
Thanks again.