August 24th, 2011
As I sit at the desk in my hotel room, killing mosquitoes that have some how slipped through the mosquito nets, (I'm hoping these things don't munch on me tonight) my heart is filled with joy, hope, and brokenness. Today we traveled for about 6 hours on a worn out road, through Kampala to a parish called Rakai. The roads really are horrible, so 3 of those hours were spent bouncing off the back seat, hitting my head on the ceiling of our tiny van. Somewhere in the scheduling process, the Uganda World Vision staff and the US WV Staff got on different pages, and instead of meeting our sponsor kids tomorrow as originally planned, we got to meet them today! It's difficult to put in words the joy and emotion that ran through my heart today, but all I can say is that I felt like I was meeting a family member for the very first time. His name is Nicholas.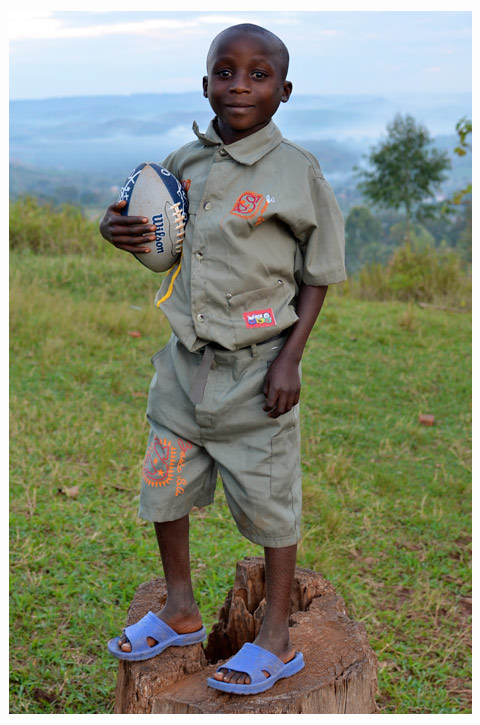 He's just about to start prep school (1st grade) and he's awesome. When we first arrived to the village he was the first little man in the group to come up and meet us, very anxious to meet his sponsor. Even though he had never seen a picture of me before today (we've only been his sponsor for just over 3 months and our letters in the mail had not arrived to him yet), he came right up to me first, as if he already knew that I was his sponsor. His mother told me that he has been so excited since the day he found out I was coming to meet him. I had no idea how powerful this was going to be. I cannot tell you how real this is. If you sponsor a child, I would HIGHLY recommend making a trip to visit he or she. Today put so much in perspective. It opened my eyes to the reality of what the Lord is accomplishing through World Vision, and specifically what my family is a part of by being Nicholas' sponsor. He has bright eyes, that are full of hope. And there's hope for his little community.
The most amazing moments of our communication today were said without words. Since there was a lag-time in our conversation due to translations needing to be made, the back in forth talking was a little slow. But the most precious moments were when he and I looked eye to eye, and I would smile and give him a nod, and he would light up and give me a big smile back and nod his head, completely agreeing with me. From the first smile and nod we both knew we were connecting, and for the rest of the afternoon that's how we talked. I brought he and his family a small load of groceries, just some staples. I also brought him a cool little Nike soccer ball, and best of all, a Dallas Cowboy football. So what did he like best? Do I even need to tell you? Yes, the football! He has an arm! And he's a talented little receiver too. Although one time I threw him a long bomb (that's what we football players call a long "pass", or "throw"), and instead of catching it with his hands he showed off a little and took it on the forehead like a soccer ball, and it almost made it back to me!
The day was amazing. I held it together for most of the time today, but when it was time to leave, it was difficult. I didn't want to go. My heart was won over by a 6 year old who spoke to me with his eyes a grin. I'm so grateful to have this opportunity to support Nicholas and his family. I have to admit that at times I've wondered how I can actually make a difference in a massive world with so many problems, even with something like child sponsorship, which is just over $1 dollar a day. Today I realized that it's not about me changing the world, it's about me changing the world for one kid, Nicholas.
Thanks for you prayers!