August 26th, 2011
Today was another action packed day. Before I get into the details of of the day, the reason it's been so long in between posts is because yesterday we traveled down dirt roads and sub-par highways for a little over 9 hours. Part of that was through a game reserve where we stopped to have lunch. That actually was a very nice break.  I'm not sure I could have taken another intense day. It was a strategic "emotional break" I think that our WV staff leader had planned for us, thank you Jean! We saw lots of game, even hippos.
So, back to today. We wasted no time, and got off to an early start. After traveling just over an hour outside of Kampala, we arrived at a small province called Kasangombe, where one of the oldest World Vision ADP (Area development Plan) in Uganda is located. WV has been here almost 25 years, and their work here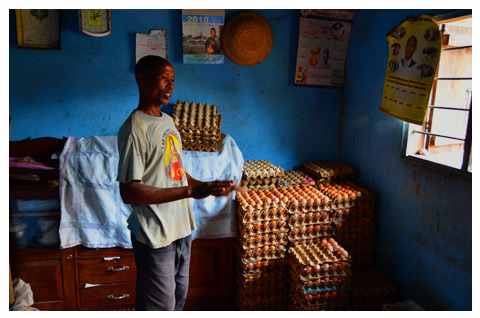 is almost done. Compared to the other ADP we visited on Monday and Tuesday, this one looked much better off. The buildings were stronger, the schools were larger, and the most encouraging part of it all, the people were full of confidence and hope. We got to step into the local WV office and meet with Diane, who oversees this area. After going over our agenda and asking a few questions we were off to meet a local farmer and his family. Kalemera Paul was his name. He is a living example of how WV can change someone's life. Kalemera told us his story, and elaborated on how his business has grown 10 fold since WV has stepped in. He farms coffee, maze, raises chickens and has a few dairy cows. In 2005 he started with 120 birds through a micro loan. Then after successfully farming those animals, World Vision gave him another 200. He then turned that into another 600 birds on his next purchase that he made on his own. Right now he's got over 1,250 chickens! Currently he's operating on a loan of $800 that he is raising another batch a chickens that have not yet started laying. His dairy produce yields around 8 liters of milk a day, producing $90 a month. As far as coffee, this year alone he has sold over 1,500lbs worth around $800. He started with only 3 acres and now operates on over 8.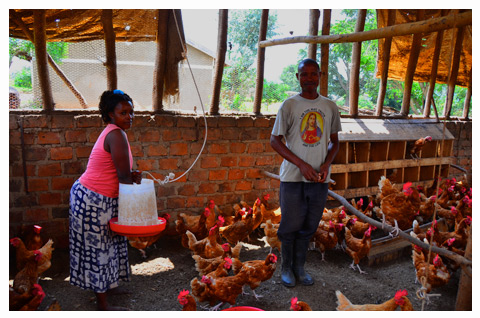 Kalemera is an inspiration to me. The way he spoke about his wife was so humble and loving. He shared that she worked very hard, on top of her teaching job to help with the farm, and expressed that when he learned the value of family, he began to teach other farmers to do the same. He's trained 7 other farmers to work this way. He has used the gifts that God has clearly given him to provide for his family, and just as every other story in this blog has told, he gives beyond that. He's currently supporting other dependents, paying up to $100 per town to support them (I'm not exactly sure what he meant by this) and he's adopted another son to add to the six he and his wife have on their own. I was so impressed by his business skills. I asked him how much education he has had and he said up to grade 7. Seventh grade. He then added that World Vision had educated him further on business skills and crop management.
Even though it may look to us as if this man is living in poverty still, he has become self sufficient and is a leader in his community. His farm may look like nothing to a farmer in the US, but in this perish he is paving the way to success for others. I've always known this, but I'm starting to really understand that most Americans have no idea what real poverty is like. A day on food stamps in the US is so much more than what millions upon millions of people will ever have in places all over this world. I hope that we all can realize this and use the blessings that God has given us, no matter where we are in life, to empower people like Kalemera Paul to provide for his family. It's possible, and World Vision is kicking some serious tail at it in Uganda.
That's all I'm going to put up for today, there was a lot more but I think I'll save it for tomorrow. Thanks again for everyone who has been praying for me. I'm, off to Kenya later today for a night in Nairobi and then tomorrow heading to the the Masai Mara on a small prop plane to take a run with the wildebeests!