August 29th, 2011
On the last day of the Uganda/World Vision leg of my journey to Africa, I had the opportunity to witness a reunion between a member of our WV staff, and her sponsor child Sylvia. This was not the first time they had met, and when we arrived there was a heart-warming reunion. I was busy taking pictures as fast as I could to try and capture this moment for most of the time (I'm no pro so I just shoot everything hoping something looks good!). Then I had the chance to just wander around by myself and check out the scene. I had heard a little bit of her story, but seeing it in person was moving. Through the years, this one relationship, with sponsor and child, has transformed Sylvia's family's living conditions. On their land stood a small mud and stick hut. It's amazing that these things can stand for as long as they do. This was where the family lived for years before their child was sponsored. It consisted of two rooms, one with a mud stove, and another room to sleep in. Maybe about 200 square feet total. There was no water system, and although this provided some shelter, I can only imagine how difficult it was to live in such a place.
Video Coming Soon of the new House

Through the years this relationship between child and sponsor grew, and as the Lord provided, this family was upgraded to a cinder-block house and a clean water harvesting system, with the help of WV and the sponsor. The family kept the old hut to use as storage and also for cooking. The new house is so nice compared to the standard in this perish. It was beautiful, with blue walls inside and a water-tight tin roof. Inside there was a central living room, with two bedrooms, one on each side. I kept thinking, "this is all here because of just one sponsorship". This is what can happen when a sponsor actually has relationship with the kid they are sponsoring.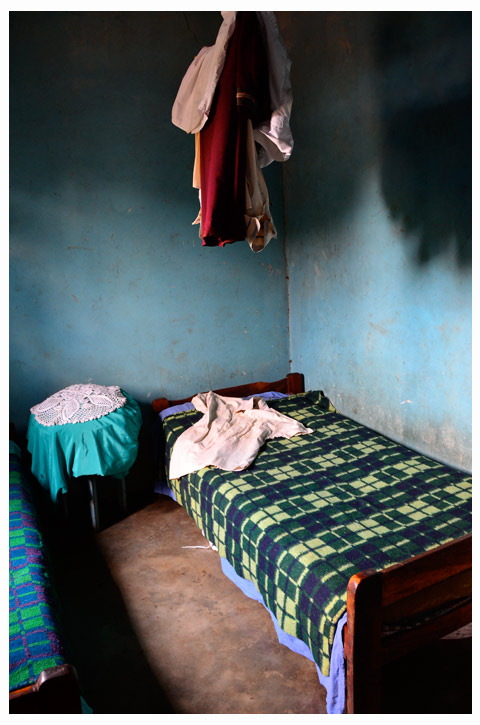 After they spent a good while reuniting, showing the sponsor "all things new" at the house, the Sylvia went back to the mud hut and began to bring out a stash of gifts she had prepared. She laid out a stack of fresh sugar cane, and baskets of exotic fruits and veggies. She even gave her a live chicken! I wonder how that thing is going to make it past customs!
Well I'm excited. Tracey and I have a lot to talk about when I get home, now that I've seen what can happen, I can't sit on the sidelines and cheer for others like I've done in the past. I'm not saying that I have not been active in supporting our sponsor kids, but now that I've seen this, things are different. God has blessed my family so that we can be a blessing. In fact, that's a story we all share, especially in America. I want to encourage you to pray about how you are using what God has given you. To much is given, much is required, and by this world's standards, we Americans have been given MUCH. I pray that the Lord will plant in us the seed of love that can root deep in our hearts to provide a better foundation for those less fortunate than we are. I pray that the fruit of our lives will fall ripe in countries all over this world, and as our baskets overflow with blessings, may we share with the ones who need it most, for these are the faces of God.